Ventura Aerospace embedded  systems are highly adaptable and ruggedized for the aerospace industry. We use these control systems in our fire suppression systems. They can also be used for supplementary ECS control used in special mission applications, health monitoring, payload monitoring and many other functions.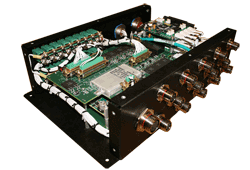 As a National Instruments Alliance partner, our solutions are built from the best modular hardware in the industry.
Our systems are designed to meet many of the following requirements for aircraft use.
Mil-Std-810 for environmental, including shock and vibration
DO 160 for environmental, including shock and vibration
Mil-Std-704 for power
Custom power boards to handle the requirements of Mil-Std-704
Custom circuit board design for interface and signal conditioning
Reconfigurable I/O
Multiple I/O, Analog or Digital
EMI Shielding
Radiated emission testing
Conformal Coating
PCB Design