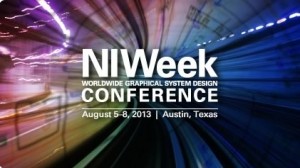 Ventura Aerospace will be attending NIWeek 2013. Our team looks forward to the great sessions available at the conference this year. As a Silver Alliance Partner, we look forward to meeting with industry representatives and other Alliance Partners to help each other leverage the amazing tool set that National Instruments has been able to develop.

Learn More about NIWeek
NIWeek delivers technical networking and instruction with interactive sessions by NI R&D engineers and guest lecturers; targeted industry summits; hands-on workshops; exhibitions on the latest advancements in design, research, and test; and keynote presentations from leading technology thought leaders.
Past presenters include Dr. Neil Gershenfeld of MIT's Center for Bits and Atoms, Dr. Michio Kaku of City College of New York, and the late Tim Samaras of Discovery Channel's Storm Chasers.
Attendees include engineers, scientists, and executives from well-known organizations such as Boeing, CERN, John Deere, ST-Ericsson, and UC Berkeley.
Join us from August 5-8, to learn how you can accelerate productivity, innovation, and discovery with National Instruments.
For more information click here: http://www.ni.com/niweek/