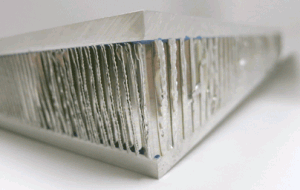 Ventura Aerospace started in 1997 with the 727-100/200 rigid cargo barrier replacement. This barrier was designed as a replacement barrier for all Boeing 727 freighters that were in service. Our barriers use a honeycomb sandwich panel design, and our method of attachment to the fuselage allows our panels to be very thin.
Rigid cargo barriers offer a benefit over cargo nets because they allow couriers or supernumeraries to sit in front of the barrier. This is not possible with a cargo net due to distension.
727-100/200
This rigid cargo barrier panel was Ventura Aerospace's first product. The barrier panel is only 2.75 inches thick yet is able to restrain 60,000 pounds of main deck cargo load. The installed weight is only 800 pounds. More than 250 of these barriers have been installed in aircraft since 1999. In fact, almost every 727 freighter in service has a Ventura Aerospace rigid cargo barrier installed.
737-200/300/400
This rigid cargo barrier panel is an extension of the 727 barrier. The barrier panel is still only 2.75 inches and is rated for 46,000 pounds of main deck cargo load. With the reduction in payload comes a reduced installation weight of 600 pounds. The install base for this barrier is over 50 units.
737-800BCF
Our 737-800BCF is a first for Ventura Aerospace, having been developed specifically for an OEM solution. With a 53,000 pound main deck payload, the 737-800BCF Rigid Cargo Barrier continues the success of our Rigid Cargo Barrier solutions.
757-200
Our 757-200 barrier represents an evolution in our cargo barrier design. This barrier panel is able to restrain 86,000 pounds while being only 5.00 inches thick. This panel is unique in that it has a 25,000 cycle first-inspection limit. The install base for this barrier exceeds 70 units
MD-80 SERIES
Our MD-80 Series cargo barriers have a maximum main deck payload of 47,000 pounds. This is the fourth generation 9G barrier for Ventura Aerospace and builds on a production history of over 400 barriers.
CRJ-200 SF
Our CRJ-200 SF barrier is an example of scaled down version of our larger barrier variants. Designed and optimized for a the CRJ-200 SF this barrier has a maximum main deck payload of 16,000 pounds.
SMOKE BARRIERS
Our rigid cargo barriers also act as smoke penetration barriers. Our barriers have NEVER failed a smoke penetration test. It is this quality that makes our barriers highly adaptable to combi aircraft.
Our experience with emergency land load barriers allows us to easily develop solutions for combi aircraft as well as special mission aircraft. Our barriers and door systems have also been tested to meet intrusion and ballistic resistance to CFR 25.795.