PROTECTING YOUR HIGH YIELD ASSETS FROM FIRE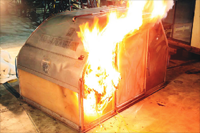 The threat of a fire aboard an aircraft is the single greatest concern of any flight crew. A fire from undeclared hazardous material was once the predominate cause of fire. With the proliferation of consumer electronics ranging from smartphones to laptops, the causes of fires aboard aircraft has swung to seemingly innocent shipments. The batteries within these devices allow us to be mobile for extended periods of time due to their ever-increasing energy storage capacity. An uncontrolled discharge of this energy through a fire is difficult to suppress.
Shipments from Asia to North America and Europe represent one of the single largest exchanges of goods. The value of these types of goods being shipped is becoming inversely proportional to package size. These high yield shipments are delivered to the consumer on a just-in-time basis and nearly always travels by air. This means thousands of units can be shipped on a single wide-body freighter.
Today, most of the industry's air freighters do not have aircraft fire suppression systems in the main deck cargo compartment. This leaves the high value and high yield assets vulnerable to loss due to fire. The aircraft and the flight crew are also at significant risk due to the lack of fire suppression aboard these aircraft.
Ventura Aerospace's aircraft fire suppression systems for Class E compartments have been shown to be effective in suppressing fires that start from or involve batteries contained in laptops and smartphones. Other types of fire suppression continue to be ineffective. Existing Halon-based suppression systems will do nothing to suppress a battery fire other than suppress the packaging. The battery itself will continue to burn in the presence of Halon.
Ventura Aerospace has developed FAA-certified aircraft fire suppression systems for Class E compartments on the MD-11F, MD-10F and the 777F. The systems are currently flying aboard the FedEx MD-11F fleet and are being installed on the FedEx 777F fleet. These systems are modular and adaptable to a wide variety of aircraft types. We have evaluated systems for 747-400F, 757-200F, 767-200/300F, A300-600 as well as smaller installations on Embraer, Gulfstream and Bombardier business jets. Ventura Aerospace is currently working on methods to certify our fire suppression systems for Class C compartments.
Learn how our Aircraft Fire Suppression System is effective at not only quickly detecting a real world fire but suppressing it as well. Learn more about how our system works here.