Cargo Facts, 2012
Ventura Aerospace is attending Cargo Facts 2012 at the Lowes Hotel in Miami, Fl. Come down and see us there. While here come by and take the opportunity to see the AEI MD-80 converted freighter.
*UPDATE*
We had a great conference. This year J.J. and his team did a wonderful job of setting up the conference. Although the industry outlook is reserved, overall there is still long term growth to be had. Ventura Aerospace looks to be a big part of this growth bu continuing to provide the industry some of the best safety solutions.
AEI MD-80SF passes smoke penetration test
Once again a Ventura Aerospace rigid cargo barrier has been used to prevent the migration of smoke from a Class E cargo compartment into the cockpit. This most recent test marks fifth time that we have been able to pass a smoke penetration test without redesign  to the barrier. AEI has developed a solid platform in the MD-80SF.
Ventura Aerospace expects to see many of these aircraft delivering high yield assets around the world very soon. Learn more about Ventura Aerospace's Rigid Cargo Barrier.
NTSB ISSUES RECOMMENDATIONS TO BETTER DETECT AND SUPPRESS AIR CARGO FIRES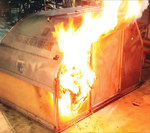 The NTSB has put pressure on the FAA to resolve the threat of fires aboard freighter aircraft. On November 28, 2012 the NTSB issued a Saftey Recommendaition defining cargo container standards and the use of active fire suppression systems. The Ventura Aerospace Main Deck Fire Suppression is currently the only available system that has been tested, certified and installed on over 60 aircraft. The system has been installed and flying on FedEx MD-11F and 777F aircraft since 2009. The system has been demonstrated to detect and suppress an FAA standard fire within 14 minutes. Testing on real world fires such as laptops and Class D metal fires such as sodium and lithium have been as successful! Click Here to read about our testing. Ventura Aerospace Fire Suppression Systems offer integrated solution to protecting high yield assets. As the system is integrated directly into the aircraft, it provides a measurable cost benefit and known continued airworthiness.
For more information on our fire suppression systems please contact us.
References:
http://www.ntsb.gov/doclib/recletters/2012/a-12-068-070.pdf
http://news.van.fedex.com/fedex-express-advances-flight-safety-automatic-fire-suppression-system-1